ATAP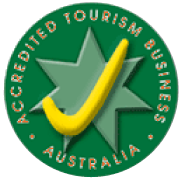 ATAP is an Australian government initiative designed to improve the overall level of quality offered within the Australian Tourism market.
The tick acknowledges local businesses who uphold a commitment to outstanding customer service and quality.
Members of ATAP also adhere to a code of ethics as part of the Australian Tourism Accreditation Standard.
Companies with the tick are approved by ATAP as having met specific criteria such as:
Quality
Reliability
Professionalism
Accuracy in advertising
Environmental practises